On Christmas Day 1880, Charles Hayden married Emma Squire at St. Andrew's in Lambeth. Around 1881 their first child, Elizabeth, was born, followed soon after by William around 1883. Then on 15th June, 1892 John Hayden came into the world. His younger brother Charles, who would go on to publish John's poetry, was born around 1895. By 1901, the family had moved from Lambeth to Westminster, taking up residence in Pimlico, where Charles worked as a civil servant at the General Post Office.
According to his brother Charles, John had always taken great pleasure from military activity with the Queen's Westminster Rifles, an elite unit that required men to pay a fee in order to join, for exactly nine years at the time of his death. This regiment formed near the end of the 18th century as a volunteer unit to defend against the threat of the French. Ironically, during Hayden's time the regiment deployed to defend their French allies from German invaders in the Great War.
Poet
Apart from his military activities, John enjoyed spending his time writing poetry that ranged from the humorous, Ode to a Far-Famed Beard, to more solemn topics such as Winter's Evening and On an Infant's Death. Although repeatedly told that his poems would never be published, John remained adamant that his work would someday appear in print.
While serving in France, the Queen's Westminster Rifles participated in the famous Christmas Truce of 1914. This was a spontaneous cessation of fire along parts of the Western Front in France and Flanders. Beginning with German carol singing on Christmas Eve, men from both sides left their trenches on Christmas Day to meet in No Man's Land. They exchanged gifts and reputedly played a football match close to 'Plugstreet Wood', Flanders (the unofficial score was 3-2 to Germany).
Death
Shortly after the Christmas Truce on the morning of 13 February 1915, John was shot and killed by a German sniper. Upon hearing of his death, John's parents opened a sealed envelope which he had left behind that was only to be opened upon his death. In this envelope was his last poem, A Request.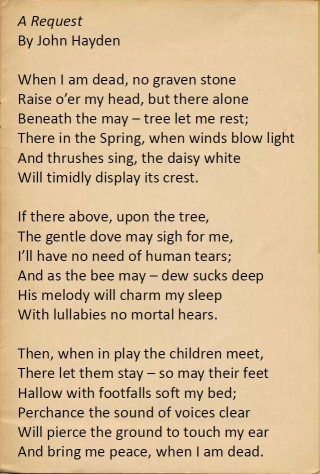 This page was added on 15/04/2014.